Demystifying the process of conservation
Exhibit Conservation
Exhibit Conservation
is an interactive tool that allows someone to look at a restored painting and 'peel back' the layers of its conservation history. It encourages people to learn about a work of art through demystifying the process of conservation, telling stories about the work through conservation images, and sparking questions about authenticity.
Role
Art Direction, UX/UI, Experience Design, Visual Design
The Problem


In many museums, wall text is still the primary mechanism by which museumgoers are expected to learn about a work of art. It's always been my least favorite part about going to art museums. Wall text is physically tiny, the experience of reading it is totally divorced from looking at the actual painting, and often incredibly dry and full of confusing jargon.

Wall text is the traditional but insufficient mechanism for learning about a work of art. Exhibit Conservation presents an exploration of an alternative mechanism for interacting with and learning about artwork.


Design Process

Research & Insights: I went to the Met to interview people about their thoughts how wall text helped them understand a word of art. These conversations confirmed my instinct that the mechanism of wall text is not working, and that people are eager for something different.

I then identified conservation as a point of entry to engage people with the paintings in an unexpected way and collaborated with experts from the Kress Conservation Center.


Before treatment:
Digital photography in normal light
Analytical techniques performed:
Examination with Infrared Reflectography (IRR)
During treatment:
Digital photography during varnish removal and cleaned state
After treatment:
Digital photography in normal light
Ideate & Sketch:
I designed a simple code interaction that allows people to reveal an alternative view of the painting from its conservation history.
User test:
I brought that code interaction to the Met to share with people via an iPad.
This user testing helped to:
Confirm people found a tool featuring conservation information interesting

Learn how would they want to engage with this type of content
At this stage in the process my plan was to take this screen-based demo, and scale it up on an interactive kiosk to be installed in a museum gallery. However, everyone I spoke with said they would prefer to engage with it on their own device. This feedback was critical to reframing my project as a digital screen-based experience that people can engage with through a mobile device like a phone or a tablet.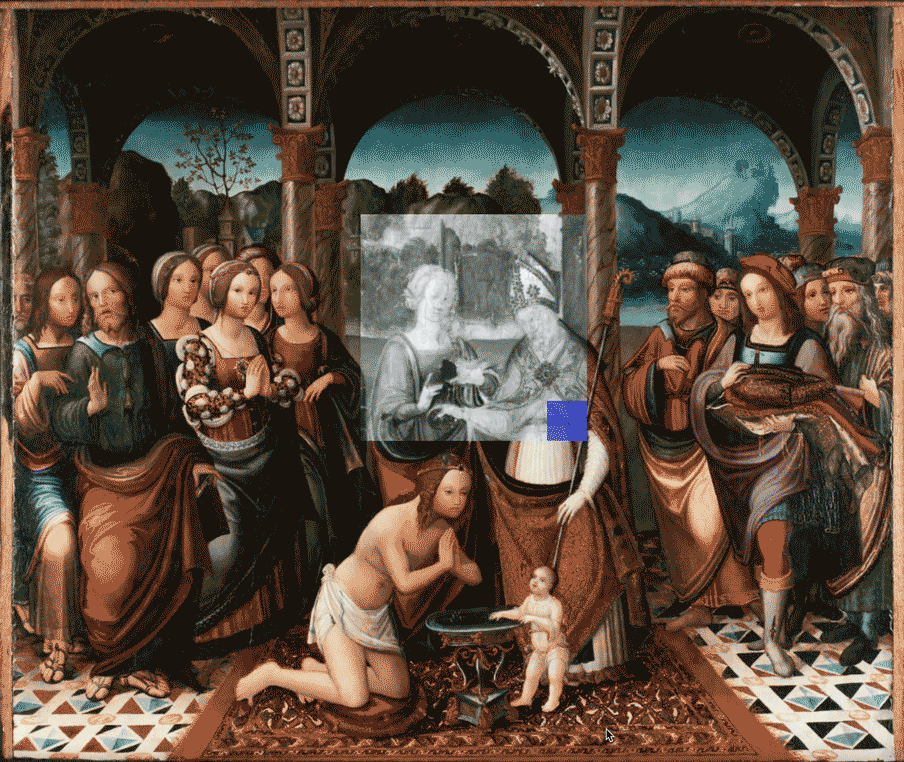 Demo: The video below illustratrates how Exhibit Conservation leverages the affordances of design and technology to layer information in an engaging way that simply isn't possible with printed wall text.

The hotspots work as navigation to explore different parts of the painting. Each part is associated with a different conservation image type so that you are seamlessly taken through the different types of images as you click around the painting. The text at the bottom also changes with each hot spot so that it is always related to what you are looking at.