Mapping infrastructure around parks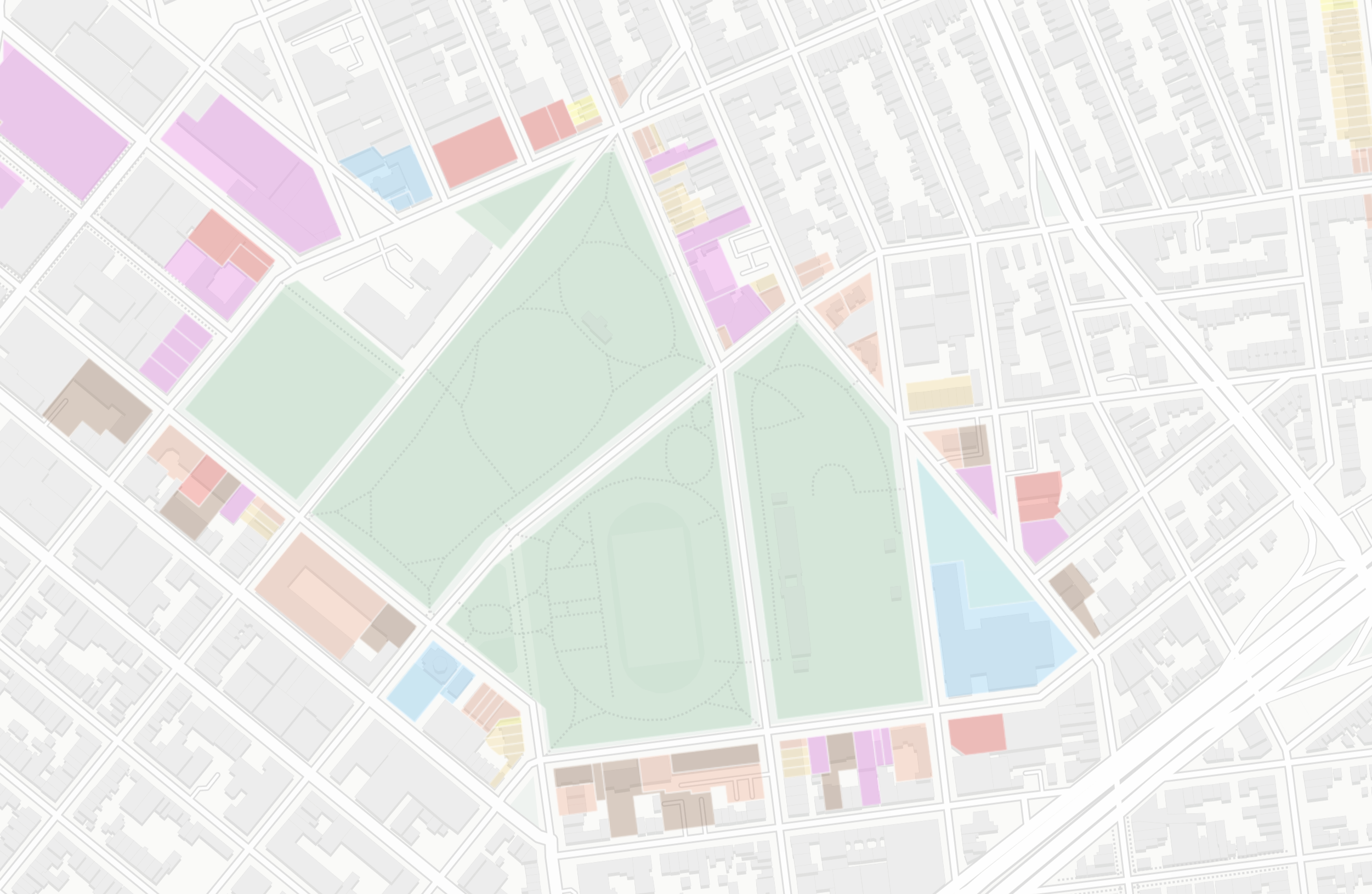 In New York City, there are over 1700 parks, playgrounds, and recreation facilities across the five boroughs. While some parks are cherished and used, others are considered dangerous and avoided. In Jane Jacobs' book, The Death and Life of Great American Cities, she discusses what contributes to the success or failure of a park. Her writing still feels relevant today and I used it as a guide to examine successes and failures in parks in New York City today.

To narrow my research, I focused on parks with the highest and lowest crime rates in Brooklyn. Crime is not an ultimate determinator of a park's success. However, crime often occurs in unwatched areas, and if a park is unwatched that is likely because it is unused.

I created an interactive map that leverages Jacob's successful-park-criteria to see if it holds true today. Jacobs stresses the importance of diverse infrastructure that will bring different types of people through the park at different times of the day. Mapping allowed me to visually represent the shape and size of parks, their surrounding areas, and the type of businesses occupying those surrounding areas.

Coney Island Beach & Boardwalk
399 Acres
Murder: 0
Rape: 1
Robbery: 8
Assault: 7
Burglary: 1
Grand Larceny: 35
Grand Larceny of Auto: 0
Total: 52
Prospect Park
525 Acres
Murder: 0
Rape: 1
Robbery: 13
Assault: 4
Burglary: 0
Grand Larceny: 17
Grand Larceny of Auto: 0
Total: 35
Brooklyn Bridge Park
21 Acres
Murder: 0
Rape: 0
Robbery: 2
Assault: 3
Burglary: 0
Grand Larceny: 15
Grand Larceny of Auto: 0
Total: 19
The three parks with the highest 2019 crime rates in Brooklyn are Coney Island, Prospect Park and Brooklyn Bridge Park. Coney Island and Prospect Park are both really large, suggesting a relationship between crime rate and park size. Brooklyn Bridge is a bit of an outlier at 21 acres divided into a couple separated park plots.
Brownsville Playground
3 Acres
Murder: 1
Rape: 0
Robbery: 0
Assault: 11
Burglary: 0
Grand Larceny: 0
Grand Larceny of Auto: 0
Total: 12
Fort Greene Park
30 Acres
Murder: 0
Rape: 0
Robbery: 6
Assault: 3
Burglary: 0
Grand Larceny: 3
Grand Larceny of Auto: 0
Total: 12
McCarren Park
35 Acres
Murder: 0
Rape: 0
Robbery: 1
Assault: 4
Burglary: 0
Grand Larceny: 7
Grand Larceny of Auto: 0
Total: 8


Coming in at number 4 and 5 for highest crime in Brooklyn are Brownsville Playground and Fort Greene Park. McCarren Park is actually 9th highest, but the number of crimes really levels off and I want to draw comparisons between Fort Greene and McCarren Park. Brownsville Playground, by contrast, is much smaller with the same rate of crime. The neighborhood of Brownsville sees some of the highest rates of crime within Brooklyn, and it's not surrounded by the same diversity of infrastructure. About ⅓ of the park borders a 4 lane highway. When compared to other parks in its neighborhood, Brownsville Playground seems like it is a case that actually supports my hypothesis that diversity of infrastructure makes a park safer.
Fort Greene Park
Acres: 30.1
Crime total: 12
McCarren Park
Acres: 35.7
Crime total: 8
Fort Greene and McCarren Park have a lot of similarities in size, crime rate and diversity around the park. Outside of any research, I also know from living in Brooklyn that they are parks beloved and used within their neighborhoods. In other words, they're successful. But they still have higher rates of crime than the majority of other parks in Brooklyn.

Above, we can see some of the details of the parks such as walking paths and tracks, and it allows us to focus on the colors surrounding the parks which represent the different uses for these buildings. Fort Greene has less infrastructure diversity and higher crime. Fort Greene is also one continuous park plot while McCarren has one way streets running through it that breaks it up into smaller plots.

Fort Greene Park
Acres: 30.1
Crime total: 12
McCarren Park
Acres: 35.7
Crime total: 8
McCarren park, on the right, has huge stadium lights that are on all night. I believe they were installed with the baseball fields and track at the park, and they have the effect of illuminating otherwise dark corners. Fort Greene Park, by contrast, does not have these large lights. It has smaller street lamps that McCarren has in addition to it's stadium lights. This lighting makes the paths way more visible and watched in McCarren than in Fort Greene. McCarren Park is also extremely flat, while Fort Greene has more of a hill. I wonder if the slope of the land creates unwatched areas that are more dangerous at night.

These conjectures again rely on an assumption - the assumption that the crimes are more likely to happen at night. I do not know if this is true - the data I have did not provide info about where in the park it happened, or what time of day.

I'm interested in exploring how to better quantify "use" to determine the success of a park. Datasets such as the Park Inspection program, Citi Bike rentals, and social media tags could help. I'd also want to look outside of the park to investigate the crime rates in the neighborhood. Different parts of the borough are policed differently and I'm curious how this contributes to the success and failure of public spaces. It could also be valuable to look at street light data to evaluate if different parts of the city better lit and feel safer and watched.

The data for this project is sourced from NYPD NYC Parks Crime Statistics for 2019 and the Carto database for Brooklyn. I used Carto to process the data and make the visualizations.